How Do I Buy a Wedding Dress During Covid-19?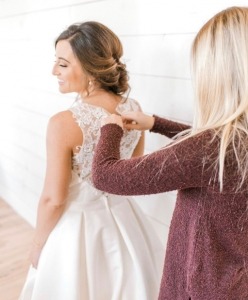 First of all, Congratulations! What an exciting time for you. Wedding dress shopping is a day many brides have dreamt about for years. It's an exciting time for you to shop with your loved ones and see their excitement when you find the perfect one! 
Social distancing, stay-at-home orders, shelter-in-place mandates, quarantine . . . no matter what label gets used, this is a time of uncertainty. The process of wedding dress shopping is supposed to be filled with joy and excitement, not stress and fear. Don't let this time of unpredictable and uncertain times steal the excitement around your wedding planning. Although wedding dress shopping looks a little different during this time, it can still be a memorable and joy-filled moment. 
Love isn't canceled. 
No matter if your wedding is in one month or one year, a small gathering or a big event in the future, we are here for you. 
So how is it possible to go wedding dress shopping? The bridal community has come together and created solutions to unexpected circumstances–just like we always have. Bridal stores in many states just like us have come up with innovative ideas to help you say yes to your dream wedding dress virtually!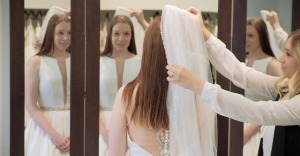 We have created a way for you to work with a personal bridal stylist from the comfort of your own home.
The Questionnaire:
First, we will personally call you to ask you the same questions virtually as we would in our boutique. You can tell us all about your fiancé, your dream wedding, and how you want to feel on your special day. From your venue to your colors and of course your vision for your wedding dress, we want to hear all your must-haves! Based on your answers, a personalized shopping experience will be created just for you.
The Virtual Shopping Trip:
You will check out our website and get to know us better and learn more about our boutique. On our Pinterest page, you will have access to every wedding dress we have in the store available for you. We will use all we learned about you during the questionnaire to create a personal and private Pinterest board filled with dresses curated just for you and geared towards your bridal vision. Happy shopping!
The Mannequin Runway:
When you narrow down your top choices, we will do a video call with you to show you what the dresses look like on the mannequins, allowing you to see the shape of the dress, the way the fabric lays and moves, and the up-close details that make each dress one-of-a-kind.
The In-Person Try On
Once we can reopen again, we will set up a bridal appointment for you to try on your top picks and for you to ultimately fall in love with your dream dress. You can finally say yes to the dress!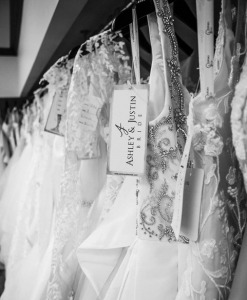 Maybe the celebration has to come later. That moment with your whole bridal party might not be able to happen right now, but you can still cherish the intimate moment of saying yes to your wedding dress. You can always set aside time for when your dress comes in to have the big reveal of your dress to your loved ones. They can help you find the perfect accessories to complement your dress and still feel a part of the special process. 
Our advice to you is to say yes earlier rather than later. If you have a clear vision of what you want for your wedding dress and you have been to stores already, then order your dress. One good thing is that time frames for dresses have not changed. Some bridal companies have experienced no delays in the process of creating your wedding dress. 
Remember, your wedding is really about you and your fiancé becoming one. Hang in there. Social distancing won't go on forever and the celebration will happen. Don't let this virus steal your joy from your wedding planning! Stay positive and enjoy the process, even if it looks different right now.