Why We Chose the Bridal Designers We Carry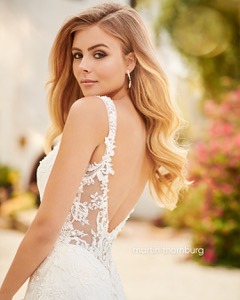 One question we are often asked is why we chose the bridal designers we carry. This decision was very important to us; we wanted to ensure that our brides were trying on bridal gowns that offered both on-trend design and high quality. We feel we have been able to accomplish both with the designers we have chosen. It was also important for us to bring in new designers to the area, with an element of uniqueness that wasn't already offered in surrounding bridal stores.
When wedding dress shopping, your goal is not just to find a dress you love to look at; it's important to find a well-constructed dress that feels good to wear and is specifically designed to flatter and support you. To help you feel your best on your wedding day, our designers have thoughtfully placed seams, appliqués, and beading in the right areas to accentuate your form. The quality construction of the dresses will ensure that they will hold up throughout the day and night, because the zippers and straps are made to be durable.
Often the assumption is that high quality requires a high price, and although you will pay a bit more for the quality, we feel we have found a good balance between quality and affordability in our designers.
At Jocelyn Taylor Bridal and Prom, we offer our brides three unique wedding dress designers: Martin Thornburg, Ashley and Justin Bride, and Cristiano Lucci.
Martin Thornburg
Martin Thornburg believes, "A truly magnificent wedding dress is all about shape, fit, and construction."
Martin Thornburg bridal gowns are thoughtfully designed with fit in mind. They focus on what makes each bride feel beautiful and incorporates the bride's personality in each design. Their designs make you stand out for all the right reasons, with each dress being just as unique and diverse as the bride herself.
Martin Thornburg provides an assortment of fashionable bridal gowns ranging from the traditional ball gown to the modern wedding dress. Martin is passionate about details, therefore the fabric quality is high and each Swarovski crystal is hand-beaded onto every dress.
Ashley and Justin Bride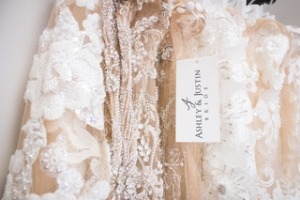 Ashley and Justin Bride is an affordable luxury right off the runway. Transforming bridal dreams into a reality, Ashley and Justin Bride offers beautifully made bridal gowns for every bride. Their bridal gowns are adorned with intricate laces, vintage-inspired embroidery, whimsical appliqués, dazzling details, and masterful tailoring with fabric that hugs in all the right places. Whether you want an open back or beautifully beaded illusion, they have it all. Designed with every bride in mind, their designs range from the simplicity of an A-line to elaborate balls gowns, from the boho style to the chicness of red-carpet glamour. With modern silhouettes, this collection is filled with romantic, youthful, and feminine designs, where a trend-setting statement is always ready to be made.
Ashley and Justin Bride states, "Our brand of wedding dresses includes an elegant and diverse collection that offers a beautiful and romantic vision of every bride's happily ever after! Our bridal gown brand is available in sizes 0-30 and is competitively priced. Every gown has details that other brands can't uphold at our price point. We set ourselves apart with our unique styles, brilliant quality, and beautiful designs. Whether they have an exact idea of how they want to look or have a few styles in mind, we craft all our ensembles with different elegances in mind."
Each design is considered cutting edge with innovation fabrications to create a bridal gown with true comfort. Ashley and Justin Bride say, "We implement illusion tulle that's unmatched in the industry whether it's at the neckline, bodice or part of a gown's sleeve". These gowns are truly made to echo every bride's unique personal style, with exceptional quality and value.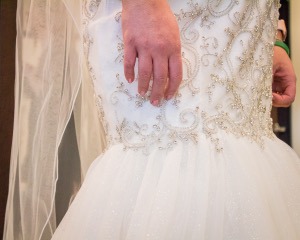 Cristiano Lucci
Cristiano Lucci is our highest price point designer. These designs are for the couture bride looking for the just-off-the-runway wedding dress. These gowns are fashion-forward and runway-worthy on a practical budget. Cristiano Lucci promises to provide the latest trends without the exorbitant price tag. For the bride who is all about fashion and upcoming trends, these semi couture dresses by Cristiano Lucci are the perfect choice. These gowns are timeless staples at affordable luxury.
Cristiano Lucci is the essence of your imagination. With their ability to customize any dress, you truly can have a one-of-a-kind bridal gown.
We can't wait to help you find your dream wedding dress here at Jocelyn Taylor Bridal and Prom. With our tagline "Every Body Deserves Beautiful", we will help you find the perfect dress that makes you shine and shows your personality.